Cloud Migration is a mechanism of moving digital data, applications or digital resources to a cloud environment. This basically means moving data from infrastructure or hardware to on-premises and off-premises data centre. Cloud serves as the internet where lots of data can be stored, and quickly accessed as needed.
Cloud Migrating has various benefits such as:
1. Cost-effective: It is always beneficial for organisations to move the data on the cloud to curtail the cost spend on IT operations, as the cloud gets updated frequently. The data is stored in the third-party data centre, thus avoiding Operational Expenditure (OPEX) such as electricity bills, hardware setup, or cost of hiring skilled professionals, hence cost-effective.
2. Scalability: As businesses grow, the workload and the amount of data to be managed increase proportionally. The cloud works as a suitable medium that has the capacity to expand itself within the existing infrastructure without disturbing the ongoing activities, thereby, supporting the scalability of any business. Cloud adds resources as per the business need.
3. Security: Every organisation lookout for safe & secure access and data storage medium, and the cloud provides such a platform with enhanced security and safety features, including auto-updates, firewall protection, protection against malicious activities etc.
4. Performance: The cloud's bandwidth is proportional to organisational size, number of documents, and users. Due to its inherent properties, it manages all the data in one place, and by keeping the restricted access, it facilitates quick data or information access to the user.
5. Flexibility: The cloud services can be assessable from anywhere by the authorised personals. Cloud supports expansion or contraction, as needed by different services and the users.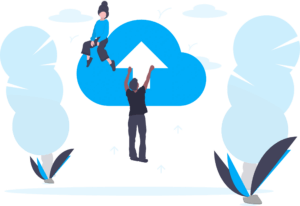 Different types of clouds can be used as per the requirement.
Four popular ones are provided below:
Public cloud: When workload data is moved from infrastructure to an off-premises data centre for public use, it is called a public cloud. Services in the public cloud are either free or as per the user demand as they are available 24/7. Some of the examples include Amazon Web Services (AWS), Microsoft Azure, Google Cloud Platform (GCP), IBM Cloud etc.
Private cloud: It is an on-premises service for selected users to provide them with necessary access, scalability, flexibility, safety, and enhanced performance for data storage and retrieval. It entails a greater level of cybersecurity services and confidentiality in the firewalls of both parties involved i.e. the user and the service provider. The private cloud is a preferred platform for data storage for almost all big organisations and governments. The major service providers for Private cloud are Dell, IBM, Oracle, etc.
Hybrid cloud: It's the computing environment that combines the data centre of a private cloud with one or more public cloud and authorises the data and the application shared between them. It provides flexibility in moving the data between the clouds as per the user needs. It requires an IT solution for business and skills that can work well with on-site hardware to make it cost-effective.
Multi-cloud: It's a combination of either 'public and private cloud', or 'multiple public clouds', computing and storing the data in a single network. AWS and Azure are among the most popular service providers for the Multi-cloud platform. Multiple clouds provide flexibility, availability of computer resources and data storage, avoiding server downtime, and helps in achieving the goals related to governance, risk management and compliance regulations.
Wrapping Up
Cloud migration services have evidently reflected their importance in day to day activities for businesses and individuals. Digitalisation has propelled the need for data privacy, protection, safe storage and retrieval, thus outlining the need for a robust cloud migration platform to ensure business continuity, and protecting the interest of the users in a long run.